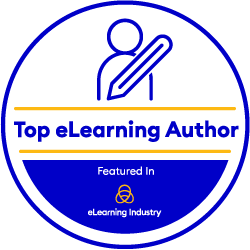 Do you want to have a powerful online presence? Then start writing compelling eLearning articles and share your eLearning wisdom with other eLearning professionals around the world. Because writing will substantially improve your communication and interaction skills, networking, and status as a Top eLearning Professional.
The Importance of Sharing Your eLearning Expertise
Let's see the top 5 reasons you need to start having a more powerful online presence, as an eLearning professional.
Sharing our wisdom is fulfilling and writing forces us to think. 
It's good, once in a while, to sit down and put our thoughts and knowledge in a piece of paper. It gives us time to think, share a problem, or a positive experience, describe a process, or a theory, and show people what we know and how well we know it.
Writing for a specific audience forces us to think about their viewpoint, which might be different from ours. 
Bottom line, it's good to put ourselves in someone else's shoes, and through our eLearning experience offer a solution that might help others.
Writing is a great way to practice what we'd say. 
Giving a particular tone, be formal or informal, set forth an idea, explain a certain theory with arguments, will all help you identify what's important, what needs attention, and what needs to be more clear and concise. And this will further improve your public speaking skills.
Writing is a good way to show the depth of our eLearning knowledge. 
Through the content we choose to publish, our audience will understand how well we know what we are talking about. A powerful online presence is not only personally important, but also professionally mandatory.
The more you write, the more established you become. 
Continuous online presence with compelling and focused eLearning articles that are interesting and appeal to readers will gradually make you an established Top eLearning Professional. This presence will make you an expert in the eLearning field, provided that your eLearning articles are well-written, with solid arguments, and good structure.
5 Tips for powerful eLearning articles writing
Know your audience.
It's important to realize who you are addressing with each one of your eLearning articles. Be focused, concise and crystal clear.
Pay attention to the structure of your eLearning articles. 
Avoid long paragraphs, opt for bullets and numbered lists that help readers scan the page, and use bold and italics for emphasis.
Avoid generic thoughts and concepts. 
Know what you want to write about, get all the details, prioritize, and wrap up with a powerful conclusion.
Engage entry-level eLearning professionals and experts. 
Decide if you want to have a problem-based or a solution-based content. Entry-level eLearning professionals should be addressed with problem-based content, so they can actively seek and work on the eLearning solution. Fellow eLearning experts would rather deal with solution-based content, so they can compare, contrast and reflect on their own opinions.
Write about what you know best. 
Love your content, enchant and captivate your readers, by being humorous, out-of-the-box thinker, dramatic or even controversial, if so needed. But most of all, make sure your content is of exceptional quality.
Writing will only make you a better eLearning professional. Publishing your eLearning articles will increase your online presence and visibility, and establish you as a Top eLearning Professional. Share your eLearning wisdom and help others understand your ideas, solutions and concepts. Get your own loyal audience that will await for your next eLearning article. There is nothing more fulfilling than that!